Congratulations to Champagne Jean Diot with their Brut Selection NV and the Extase Blanc de Noirs which received a Silver medal at The World's Finest Glass of Bubbly awards 2017.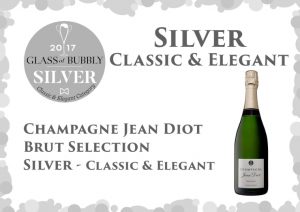 AGEING AND WINE-MAKING
Our Brut Sélection champagne is ageing in the cellar for 24 months minimum.
APPEARANCE
Light golden colour with green and silver shades. Heavy and fine bubbles.
NOSE
Flower and fruity with a subtle majority of white fruits: apple, pear, peach. Maturity and freshness blended wine.
MOUTH
Fresh attack, subtle, pleasant, with fines bubbles.
Aperitif: to serve at 7-8°C. Meal: to serve at 10-12°C.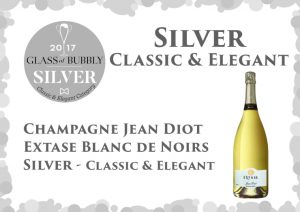 A panel of 36 top industry wine judges tasted all the entries for 2017 and were able to not only scores wines with medals, but also place them in to easy to understand categories such as Classic & Elegant: "This will likely be a stylish wine showing balance with a refined quality."
Our Extase Cuvée has aged a minimum of 30 months in our cellars, and is a blend of an accurate selection of the best-located-plots combined with an exceptional maturity of old vines.
APPEARANCE
Golden yellow colour with very fine and numerous bubbles.
NOSE
Elegant and discrete first nose that reveals yellow fruit flavours such as nectarine and mineral hints.
MOUTH
Generous and harmonious, the yellow fruits are still present on the palate, a nice length which ends with complex aromatic notes, mineral and evolution. As an aperitif pour chilled around 7-8°C. As a food pairing, pour around 10-12°C.