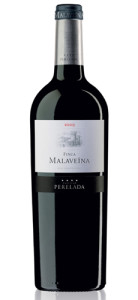 Perelada's Finca Malaveïna 2009 was one of the most awarded wines in the main international contests during 2013, according to the ranking made by the World Association of Writers and Journalists of Wines and Spirits (WAWWJ).
This association, that gathers journalists, writers and communicators, publishes every year since 1996 a ranking with the most awarded wines and cellars. In 2013, they've analyzed the global scores of more than 650,000 wines.
With a total of 202 points, Perelada Finca Malaveïna 2009 reaches the 24th position thanks to the seven awards obtained in the most prestigious contests during the last year: a Gran Bacchus de Oro (Spain), two gold medals in Sélections Mondiales des Vins (Canada) and Mundus Vini (Germany), two silver medals in Vinalies Internationales and Challenge International du Vin (France), and two bronze medals in the Decanter World Wine Awards and the International Wine and Spirit Competion (United Kingdom).
Located in the locality of Garriguella, in the Empordà Designation of Origin (Spain), Finca Malaveïna covers an area of 19 hectares of red clay slopes with pebbles. Planted in 1996 and onwards, this vineyard was designed to make extraordinary wines. It yields about 5,000 Kg per hectare.
Finca Malaveïna 2009 is a blend of Merlot, Cabernet Sauvignon, Syrah and Garnatxa, aged for 17 months in new barrels of Allier oak. This wine is deep cherry red in colour. Its deep aroma reminds of red fruits and displays some spicy notes. In the mouth it is round, meaty, well-structured and balsamic. Its acidity is very fresh. Tannins are ripe. Excellent balance, great palate and long after-taste. Finca Malaveïna sports the marked personality of the vineyard where it was born, and has a long ageing potential.